Copyright © 2007 The ParTea Planner. All Rights Reserved.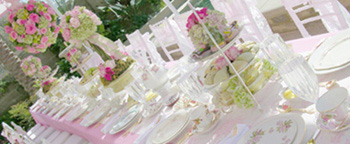 'Teacups and Tealights' Miniature Porcelain Tealight Holders

A truly beautiful favor. Your guests will swear these little porcelain teacups are miniatures of the finest china. The porcelain 'china pattern' teacup sits atop an attached saucer and the teacup is the perfect size to hold a single tealight. The brilliant silver pattern is an elegant accent on the gleaming white porcelain. The tealight is included and each "teacup and tealight" is packaged in a sophisticated showcase display box duplicating the china pattern on the teacup. Gift box is complete with a sheer organza ribbon and a lovely teapot shaped hangtag. Giftboxed favor measures 3 1/2" x 2".

Pricing (each)

1 - 23

24 - 47

48 - 95

96 + 
$3.40

$3.00

   $2.75              $2.50
Option:

Add Personalized Tags (Minimum quantity must be 24 favors, 50 cents each)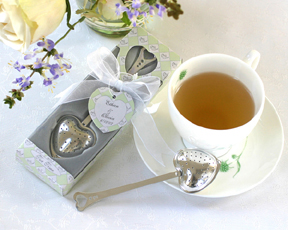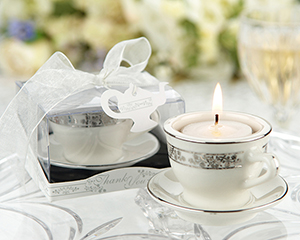 TeaTime Heart Tea Demi Infuser Favor in Teatime Gift Box 

Time for you, time for me, time for romance, time for tea! This elegant demi tea infuser favor brings an upscale sophistication to any affair. A delicate heart theme distinguishes this favorm, from the shape of the perforated infuser itself to the heart cutouts on the handle. Each infuser presents elegantly in a sleek box, printed with a charming pale green teapot print, tied with sheer ribbon and a standard heart-shaped Thank You tag. A matching personalized tag is also available with this favor. Box measures 7.5 inches long and approximately 2 inches wide.

Available Date: 04/30/2007

Pricing (each)

1 - 19

20 - 39

40 - 79

80 + 
$3.60

$2.90

   $2.65              $2.50
Option:

Add Personalized Tags (Minimum quantity must be 24 favors, 50 cents each)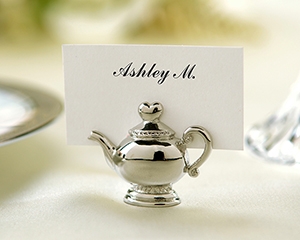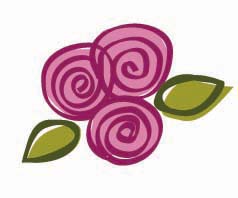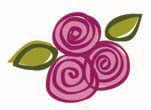 Silver Teapot Placecard Holders (Set of 4) 

It's elegance on a miniature scale, and guests will love the attention to detail.  From the perfectly detailed base to the tiny heart top, this adorable mini teapot is a delightful way to hold your placecards — and a charming memento that your guests can later use for their own photos or cards.  These silver teapot placecard holders are sold as a set of 4. Measures 1 1/4 x 1 1/2.

SOLD AS A SET OF 4.

Pricing

1 - 11

12 - 23

24 - 47

48 + 
$5.40

$4.80

   $4.40              $4.00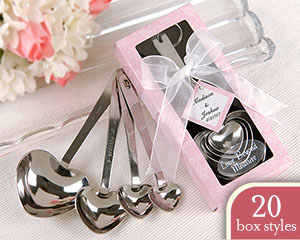 "Love Beyond Measure" Spoons in Personality Box (20 styles/colors) (Set of 4 Favors) 

Stainless steel measuring spoons with both traditional measurements and measurements of love. Each spoon features "measures of love" on one side with traditional measurements on the other. "A Pinch of Patience" = 1/4 teaspoon, "A Dash of Kindness" = 1/2 teaspoon , "A Spoonful of Laughter" = 1 teaspoon, and "A Heap of Love" = 1 tablespoon. The measuring spoons are are available with personality boxes so you can create your own packaging to accent your decor and style. Choose from 20 different box designs and colors. Sold as a set of 4 Favors. A clear label that reads " Love Beyond Measure" is also included in the event you want to add that detail to the packaging.

Please note: Matching thank you tags are included with each favor. Matching personalized tags are available for an additional charge. Personalized tags will coordinate with personality box.

ITEM IS SOLD AS A SET OF 4

Pricing

1 - 5

    6 - 11

    12 - 24

  24 + 
$18.75

$15.00

   $13.75              $12.45
Perfect for Bridal Showers!